Sevylor Inflatable Kayak
---
If you like slashing through the waters looking for a rush or simply hunting for hidden waterways or secret coves you will love doing it in a Sevylor Inflatable Kayak.
They are extremely durable and lightweight which makes them easy to carry and store without sacrificing stability or safety.
Sevylor Kayaks are great for exploring, fishing and just fun time on the water.
Sevylor Fiji 2-Person Travel Pack Kayak
Easy to carry, setup and store
This two-person kayak comes equipped with a fixed seat in the rear and a removable set in the middle.
2-Person
Sevylor Fiji is made of durable 22-guage PVC construction that is rugged for lake use.
Multiple air chambers allow another chamber to stay inflated if one is punctured.
Mini double lock and double lock valves use 2 locking points for easy inflataion / deflation.
400 pounds maximum weight capacity
Spray covers block splashes to help keep you dry.
Includes paddle and carry bag.
Inflated dimensions: 10'4" x 2'9".
Available online at Ebay.com

Sevylor QuickPak Coverless Sit-On-Top Kayak
Stable and impressive on the water

Light enough to pack on a bike or backpack in to mountain lakes

Grab and go design packs into integrated backpack

Dimensions: 8 foot 7 inches by 3 feet

Cover-less sit on top inflatable kayak 1-person seating

21-Gauge PVC construction is guaranteed not to leak
400 pounds maximum weight capacity
Inflatable, adjustable backrest
Secure cargo net for gear storage
Built-in cup holder
Dual action hand pump for inflation
Tracking fins for easier steering
Aluminum Paddle
Available online at: Ebay.com
Sevylor Rio Hunting & Fishing Inflatble Kayak Canoe
The Coleman Sevylor Rio Inflatable Kayak Canoe is a 1 person hunting and fishing inflatable canoe.
It has the look and feel of a canoe but offers kayak like maneuverability.
It makes the perfect boat for rowing i a pond, lake or river.
1-Person Kayak Canoe
Measures 9' 10" by 3' 1"
Features a double-hull build with raised bow and stern for extra ruggedness in rough waters.
This Sevylor canoe has durable 18-gauge PVC construction with 420D nylon cover, a reinforced bottom, elevated bucket seat and directional strakes for maximum steering control.
Has a weight capacity of 350 lbs.
Available online at: Ebay.com
Sevylor QuikPak K5 Inflatable Kayak
Easy to get ready to launch .
Holds up to 250 pounds
Problems such as weight, storage and transportation are all solved.
Folds and stores in an integrated backpack storage system.
900D Polyester Cover with 1000D Tarpaulin bottom with 24-gauge PVC Bladders.
Double-lock and mini double-lock valves prevent accidental air loss.
Features tracking fins for easier steering and includes a paddle and dual action hand pump.
Measures 10 Foot by 2" 10"Foot
Holds: One Person
Tracks well and very stable
Available online at: Ebay.com
Sevylor Tahiti Fishing / Hunting 2 Person Inflatable Kayak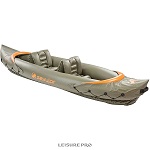 The Tahiti was released in 1963 and has maintained a smiliar build through all these years.
Made of heavy-duty 26-gauge PVC
2-person capacity
2 air chambers for security
Tubular I-beam floor for stability
Guaranteed not-to-leak using Sevylor's exclusive Airtight System, the Kayak features double lock valves to prevent accidental air loss and ensures quick and easy inflataion and deflation.
Specialty designed inflatable seats with comfortable back support
2 spray covers for protection
Maximum weight capacity: 400 pounds
Measures 10 foot 8 inches by 33 inches
Kayak is equipped with carry handles and comes complete with a convenient carry bag.
Check it out on Ebay.com
Sevylor Skeg


Directional skeg gives you better control in the water
Fits all Sevylor Tahiti kayaks and Fiji Kayaks
Can be used to increase yur boat Feets speed
Helps make the kayak usuable on windy days
Purchase at: Ebay.com
---
Sevylor which was founded in 1948 as the dominant supplier of a wide range of PVC inflatables from brightly colored beach balls to river running kayaks.
Now, Sevylor's innovative designs range from inflatable boats to whimsical floats and now they market a wide variety of items. These inflatables include::
Hunting and fishing boats
Air Beds
Towables
Snow Tubes
River Tubes
Pool Floats and Toys
Tenders
Specialty boats and kayaks
Swim and Sport Rings
You will find Sevylor's products to be of high-quality and feature construction and materials engineered for safety and long life.
Have fun with your new Sevylor Inflatable Kayak